The Meeting Burger: How to make your meetings a delicious experience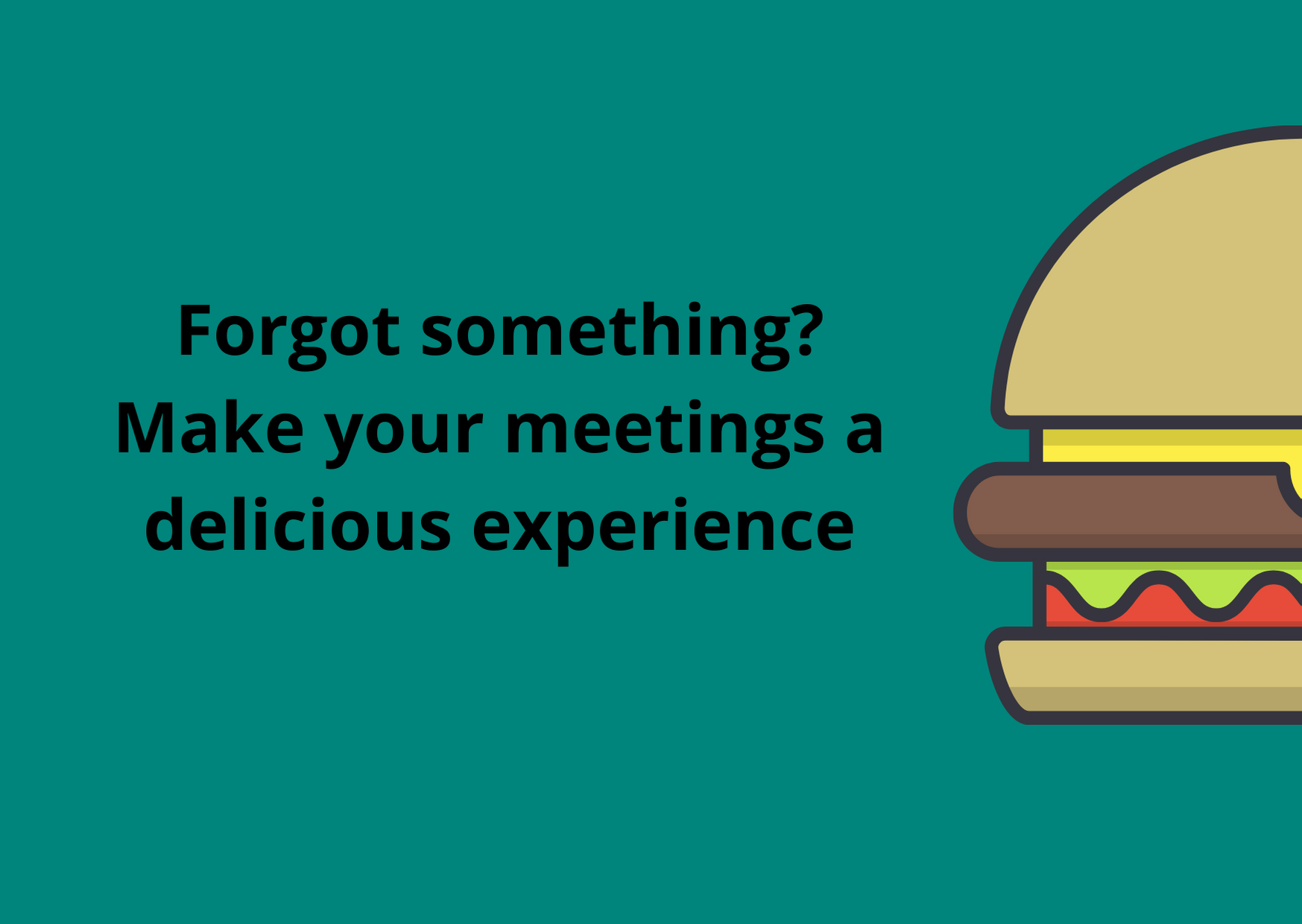 There are the really valuable. There are the effective. There are the funny ones. But there are also the oh-so-boring and the irrelevant ones. There are the short and the long, the physical and the digital.
What we're talking about is of course meetings. Something most office-based workers spend countless hours on every week. We also do that at MSD Denmark. And therefore, it made a lot of sense when we last year created an internal working group, which was tasked with identifying and communicating good meeting principles in MSD Denmark to help us have more productive meetings.
But how do you present something quite boring like meeting principles in a digestible way that also make people remember them? You wrap it in something that people know and can relate to. This is what we did – and how MSD Denmark's Meeting Burger was born.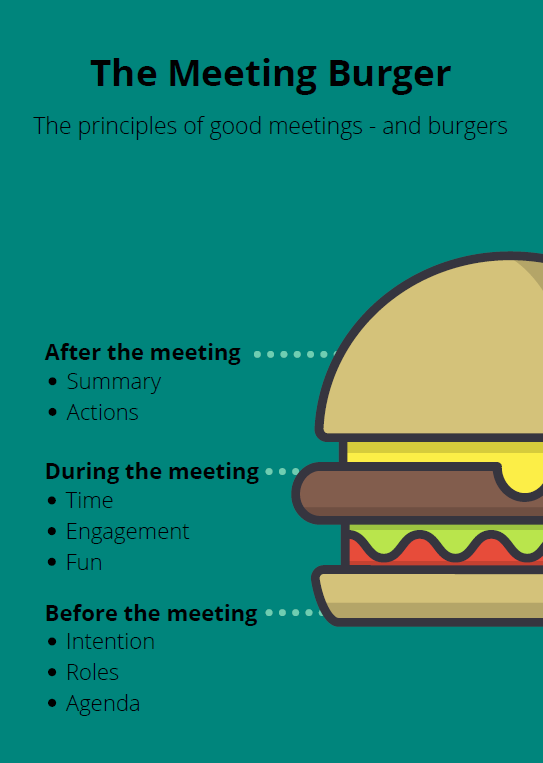 Before, during and after the meeting: The original Meeting Burger
The original MSD Meeting Burger is simple, yet effective. It focuses on the three phases of a meeting.
Before the meeting – represented by the bottom burger bun
During the meeting – represented by the burger filling
After the meeting – represented by the top burger bun
Each burger section consists of 2-3 principles that all meeting holders and participants should adhere to when planning and holding meetings. For example, during the meeting itself – in the burger's filling – you should
1) stick to your schedule and agenda
2) as owner of the meeting make sure that everyone is heard and engaged
3) make the meeting more fun and more energetic by taking time to e.g. do a short 2-5 minute group activity.
Despite – or perhaps because of – its simplicity, The Meeting Burger got a lot of attention in MSD Denmark – and in many other regions actually. But most importantly, it made us more mindful about how we conduct meetings and it helped us talk about our meetings in a new way.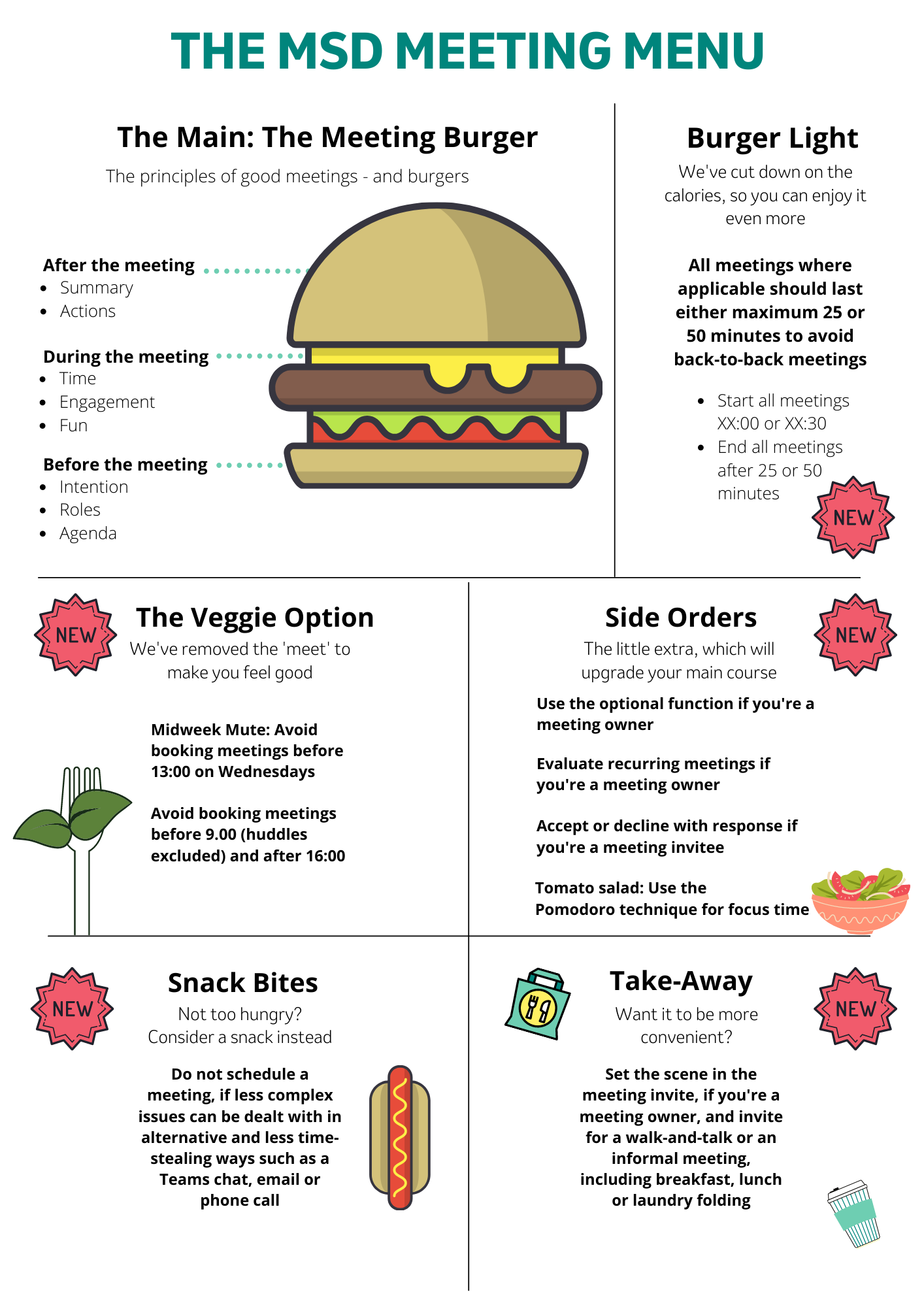 Expanding the menu to 'meet' free days and focus techniques
The introduction of the Meeting Burger helped us to get more thoughts and conversations going internally. But pretty soon, it became clear that we were not at the finish line at all and that much could still be done to improve our meeting culture and the way we work in general. Therefore, the working group continued their work, and in 2021 we in MSD Denmark then introduced an expanded Meeting Menu. In addition to the original Meeting Burger, the new menu – among other things – include:
A vegetarian option: A common principle that we do not have any meetings at all for half a working day.
A burger light: An attempt to shorten all meetings by 5-10 minutes while avoiding back-to-back meetings.
A tomato salad: An attempt to create more focus in between meetings using the Pomodoro technique, where you work fully focused in 25-minute intervals.
The initiatives in the expanded Meeting Menu have once again helped shape our meeting and work culture in new ways, and especially our meeting-free Midweek Mute and the Pomodoro technique have been adopted by many colleagues. But we are not done working with meeting and work culture at all.
Hybrid meetings on the menu
After one and a half year combining home and office work, the working group will now begin to define the good principles of hybrid meetings and add it to our Meeting Menu universe. Because how do you best create effective meetings that are both rewarding and interesting for both online and offline participants? We look forward to sharing that when we've been cooking in the MSD kitchen once again.
………………………………………..
DANSK VERSION:
Mødeburgeren: Hvordan man gør sine møder til en lækker oplevelse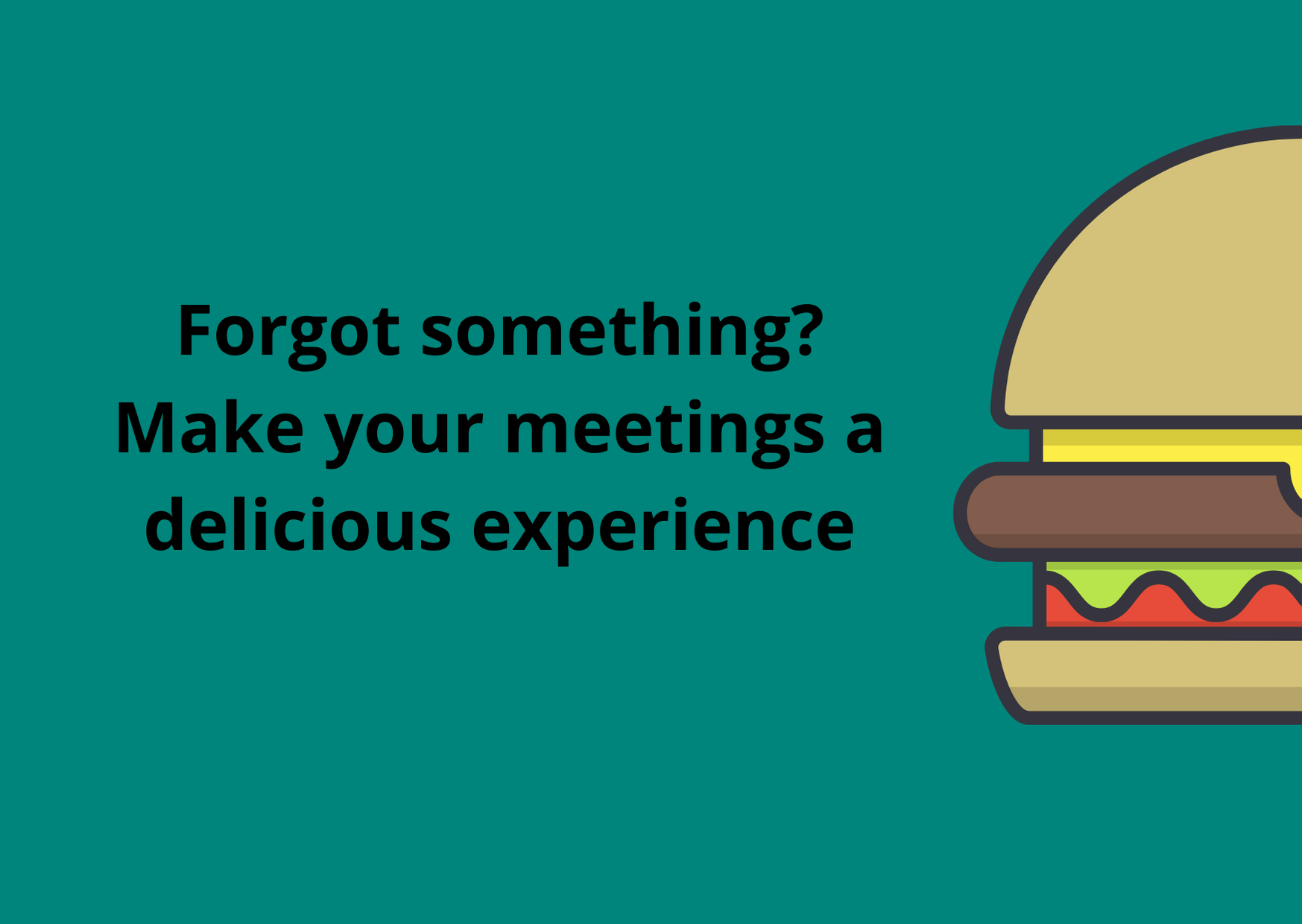 Der er de virkelig værdifulde. Der er de effektive. Der er de sjove. Men der er også de søvndyssende og de irrelevante. Der er de korte og de lange, de fysiske og de digitale.
Hvad jeg taler om er selvfølgelig møder. Noget de fleste kontorarbejdere bruger utallige timer på hver uge. Det gør vi også i MSD Danmark. Og derfor gav det rigtig god mening, da vi sidste år nedsatte en intern arbejdsgruppe, som fik til opgave at identificere og kommunikere gode mødeprincipper i MSD Danmark.
Men hvordan introducerer man noget så tørt som mødeprincipper på en appetitlig måde, som får folk til at huske dem? Man bruger en reference til noget som folk kender, og kan forholde sig til. Og sådan blev MSD Danmarks Mødeburger født.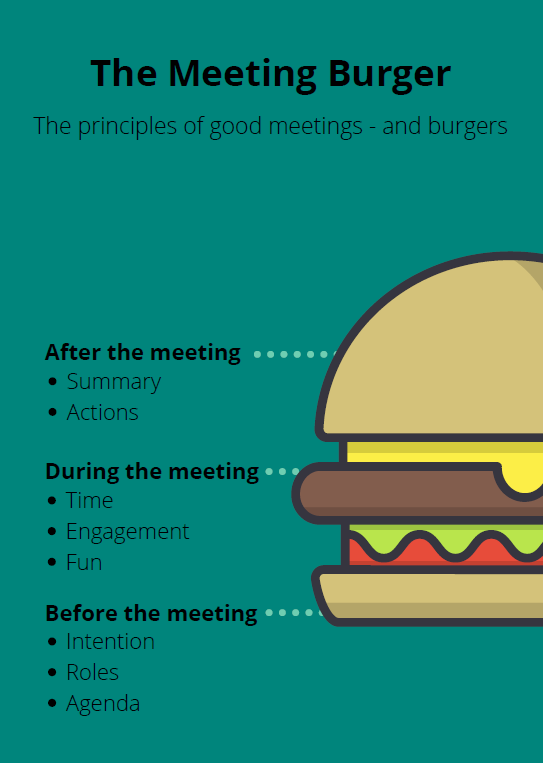 Før, under og efter mødet: Den originale MSD Mødeburger
Den originale MSD Mødeburger er simpel, men effektiv. Den fokuserer på de tre faser af et møde.
Før mødet – repræsenteret af underbollen
Under mødet – repræsenteret af fyldet
Efter mødet – repræsenteret af overbollen
Hver burgerdel består af 2-3 principper, som alle mødeholdere- og deltagere bør efterleve, når man planlægger og afholder møder. For eksempel bør man under selve mødet – altså i burgerens fyld –
1) holde sig til sin tidsplan og agenda
2) som mødeleder sørge for at alle bliver hørt og er engagerede
3) gøre møderne sjovere og mere energiske ved at indlægge tid til for eksempel en kort 2-5 minutters gruppeaktivitet.
På trods – eller måske på grund af – dens enkelthed, fik Mødeburgeren en masse opmærksomhed i MSD Danmark – og faktisk i mange andre regioner. Men vigtigst af alt gjorde den os mere bevidst om og fik os til at tale om vores møder på en ny måde.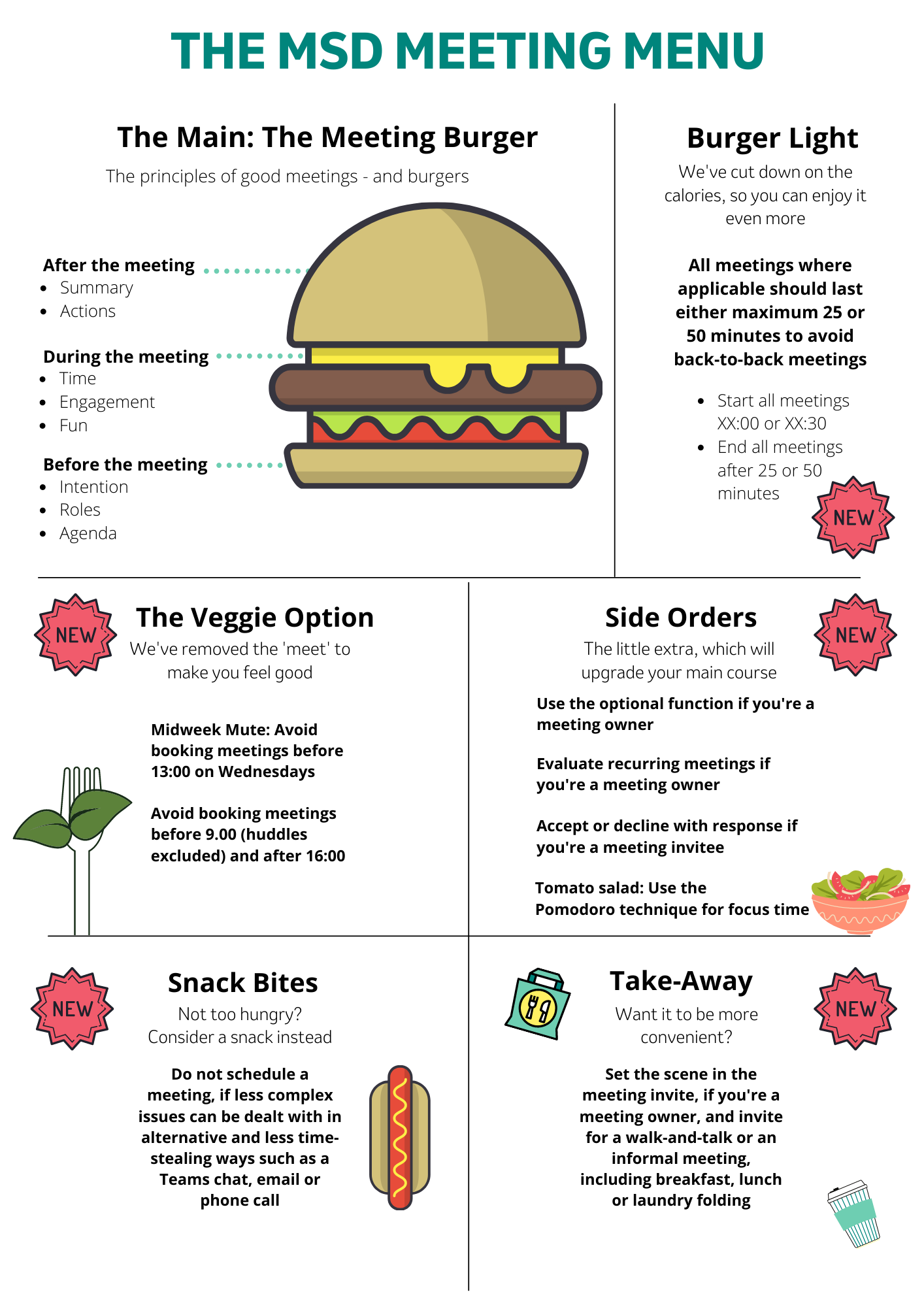 Vi udvider menuen til mødefri dage og fokusteknikker
Introduktionen af Mødeburgeren hjalp os til at sætte gang i vores tanker og snakke internt. Men ret hurtigt stod det klart, at vi slet ikke var i mål, og at meget stadig kunne gøres for at forbedre vores mødekultur, og måden vi arbejder på i det hele taget. Derfor arbejdede arbejdsgruppen videre, og i 2021 introducerede vi i MSD Danmark så en udvidet menu. Ud over den originale Mødeburger indeholder den nye menu blandt andet:
En vegetarret: Et fælles princip om at vi i en hel halv arbejdsdag slet ikke har nogle møder.
En burger Light: Et forsøg på at forkorte alle møder med 5-10 minutter og samtidig undgå back-to-back møder.
En tomatsalat: Et forsøg på at skabe mere fokus mellem møderne ved brug af Pomodoro-teknikken, hvor man arbejder fuldt fokuseret i 25-minutters intervaller.
Tiltagene i den udvidede Burger Menu har endnu engang skubbet til vores møde- og arbejdskultur, og især vores mødefri Midweek Mute og Pomodoro-teknikken har mange kollegaer taget til sig. Men vi er slet ikke færdige med at arbejde med møde- og arbejdskultur.
Hybridmøder på menuen
Ovenpå halvandet år med skiftevis hjemme- og kontorarbejde, skal arbejdsgruppen nu i gang med at definere de gode principper for hybrid-møder og indføre det i vores Mødeburger-univers. For hvordan får man bedst skabt et møde som er udbytterigt og interessant for både online og offline deltagere? Det glæder vi os til at dele, når vi endnu engang har været i MSD-køkkenet.
DK-NON-01040 / 14.06.2022
Læs også
Hybrid meetings: How we're shaking together virtual and physical meetings
Hybrid meetings: How we're shaking together virtual and physical meetings In MSD Denmark, as in all other workplaces, we have meetings. Many meetings. That is why we are constantly working to improve the way we conduct meetings. We have been doing this for a couple of years now, and as a result we have introduced […]
Read more
Hybrid meetings: How we're shaking together virtual and physical meetings
Hybrid meetings: How we're shaking together virtual and physical meetings In MSD Denmark, as in all other workplaces, we have meetings. Many meetings. That is why we are constantly working to improve the way we conduct meetings. We have been doing this for a couple of years now, and as a result we have introduced […]
Read more